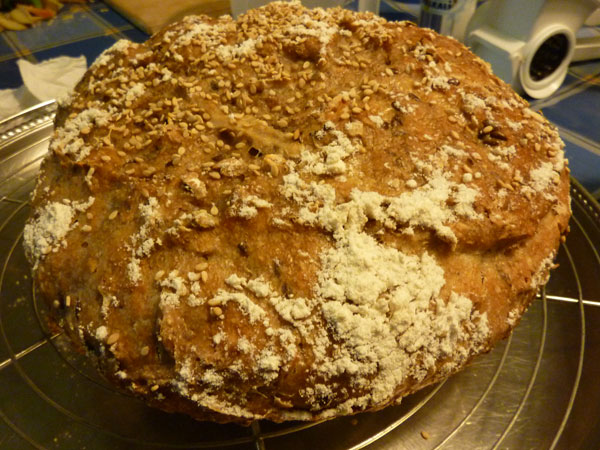 I've been experimenting with the No Knead bread offered by Matt Bittman on the NYT over the entire summer, making about 1-2 batches each week. Depending on the weather, humidity, heat etc results have greatly varied. The recipe also calls for specific temperature that is impossible to control at least in my bread making trials. I've experimented with it, adding various types of cereals and seeds to the dough. I'd adapted the measurements to use my scale and I've learned the amounts.
Then last week I also found Clotilde at Chocolate & Zucchini had also experimented with this recipe but her recipe had more flour than I've been using. The resulting dough was definitely less wet than I am used to but it looked fine. The result is the most beautiful loaf I've gotten so far that you can see above. I am in love! (Thanks Clotilde!)
But obviously I can't leave well enough alone and my second try of her recipe didn't come out as planned, mostly I think because I ran out of flour (I normally use 00 flour here in Italy) and substituted with whole grain. So I'll have to try again.
On my internet and blog reading, I found a bakers challenge that is making recipes from Peter Reinhart's The Bread Baker's Apprentice – and I was drooling over all of the examples I kept reading about…. so I did it: after thinking about it for like half hour, I went and ordered a copy for myself. Don't think I'll be joining the challenge but am certainly looking forward to getting the book to try the bagels and English muffins right from the start! And maybe I'll learn some more of the basics about bread making because I am still at the very beginning…. and I really would like to figure out how people go about controlling the temperature at which a dough is supposed to rest at.